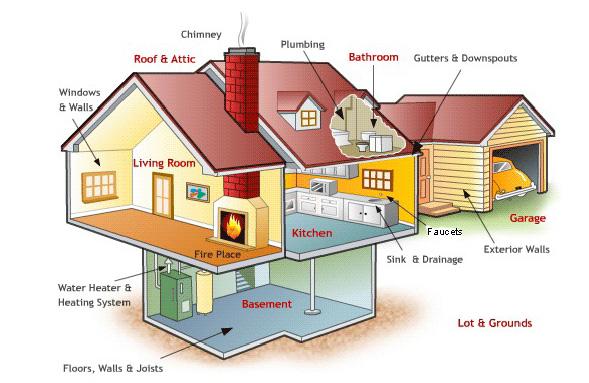 Knowledge and Expertise
Anyone can inspect a house, but not just anyone can do it well. Would you trust your home to someone who doesn't have the experience and training to identify defects and potential hazards in your new home? As professional home inspectors, we have the knowledge and expertise to provide you with a thorough and professional, non-intrusive, visual inspection of your home, from roof to foundation.
These are just a few of the many items we inspect:
Grounds: Driveway, Sidewalks, Retaining Walls, Patio, Patio Cover, Decks/Porches, Fences/Gates
Exterior: Exterior Stairs, Exterior Walls, Trim=eaves,fascia,soffits, Chimneys, Sprinklers, Hose Faucets, Gutters & Downspouts.
Foundation: Grading, Slab or perimeter foundation, Crawlspace, Ventilation, Floor Construction.
Roof: Main Roof and any additional structures, Vent Caps, Ridge Vents, All Exposed Flashing.
Plumbing: Main Line, Supply Lines, Waste Lines, Gas Fuel Systems, Water Heaters.
HVAC: Description, Condition, Venting, Combustion Air, Burners, Distribution, Normal Controls, Air Filters, Heat Pumps or A/C units.
Electrical: Incoming Service, Main & Sub Panels, Type of Wire used, Outlet, GFCI outlets, Switches.
Interior: Doors, Windows, Walls, Ceilings, Floors, Fireplace, Ceiling fans, Smoke Detectors, Attic, Ventilation.
Garage: Floor, Firewall/ceiling, Ventilation, Entry & Exit Doors, Vehicle Door, Automatic Vehicle Door Opener, Electrical.
Kitchen: Sinks, Countertops, Cabinets, Lights, Disposal, Range/Cooktop, Dishwasher, Other Special Features.
Bathrooms: Toilets, Sinks, Ventilation, Bathtubs, Showers, Wall Tiles
Sprinkler System: Rain Freeze sensor, all zones operational.